From getting back to nature to more private spaces, the pandemic has influenced what people want in their homes.
It's 2022 and the world has been through quite a lot these past two years. We've seen supply chain issues; labor shortages; and changes in the way we live, work, and play.
Home has become the heartbeat of our lives. Many of us had to pivot and work from home, our children had to do virtual learning at home, we started exercising at home, and many of us got back out to nature a bit more and even started growing our own veggies—just take a look at the number of new accounts on Instagram and TikTok with plants!
As we emerge from this global pandemic, we are becoming more aware of the influence it has had on home design. Here are 13 trends to keep in mind for your projects.
1. Brown and Green
Warm chocolate browns, cognac, camels, and caramels become a deep neutral for classic timepieces. Green in all shades—emerald, forest, sage—and botanical motifs on wallpaper that bring the outside in create a sense of newness and freshness as we reenter the world after a pandemic that kept us all indoors for so long.
2. Wallpaper
Wallpaper is back, but it's not your grandma's wallpaper! Wallpaper continues to be a dominant element in interiors, with strong patterns and more textured, sometimes natural materials being used to create spaces that envelop and cocoon you as well as add interest and personality.
3. More Defined Spaces
Open floorplans have been all the rage the past several years; however, when we had to switch to working from home and children were attending school from home, having a more private or quiet space became important. We are seeing a shift to more traditional and designated spaces.
4. Multiple Window Banks
In new construction and many remodels, we are seeing a full wall of windows, especially in kitchens. Rather than more upper cabinets, homeowners and builders are opting for a wall of windows in a kitchen to bring in natural light and connect to the outdoors.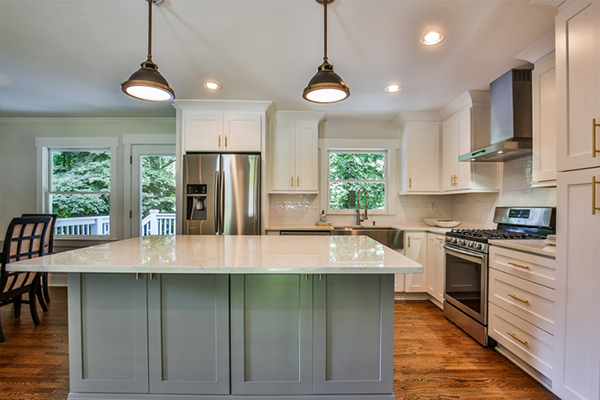 5. Kitchen Islands
We all know the heart of a home is the kitchen, and the main hub of a kitchen is the island. It has become a place where children do homework and where Zoom meetings are held. It's no longer just a place where meals are prepped or eaten.
6. Long, Linear Tile
Think of a more modern twist on the classic subway tile. Think 4"x12" ceramic tile with a handmade finish, wavy or crackle glaze for texture. It's a timeless shape, but the newer elongated tiles are a fresh take on the original subway tile. Stack it vertically to bring the eye up, or even consider a more traditional herringbone pattern. Try it in a deep green if you're looking to make a stunning and bold impact.
7. Quartz
Durable engineered quartz has become the popular choice over granite. It offers a classic marble look without the care marble needs. It helps keep a space feeling bright and airy and picks up many of the white and gray colors found in today's kitchens while providing a scratch- and stain- resistant surface.
8. Lantern-Style Light Fixtures
One of the more recent trends in design has been oversized lighting to make a bold statement, especially over a kitchen island or dining table. However, when you want an unobstructed view, such as when you're walking into a kitchen with beautiful cabinetry and vent hood, you don't want a light fixture with a large drum shade that blocks the view. An iron, lantern‑style light that is large and open can make a big statement without blocking the sightlines.
9. Shiplap
Yes, thanks to Chip and Joanna Gaines, shiplap is still in! We are seeing it more and more—and not just in kitchens and family rooms. It's also popular in bathrooms and on accent walls in bedrooms. Don't just think white shiplap; consider warm wood tones and barnwood for a different feel and experience. Shiplap adds character and texture to any room and can emphasize a wall's height or width visually.
10. Free-standing Bathtubs
The long-debated argument of many rehabbers—do we keep the tub or take it out? For those who love the respite of a long soak in a tub, free-standing tubs are the new trend. Lighter than the old cast-iron bathtubs or clawfoot tubs, these new tubs are lighter with more modern curves for today's at-home spa experience. As long as you have one tub in your renovation for those who love a respite at the end of a long day, you should be good!
11. Aging Gracefully in Style
As baby boomers hit retirement, they are embarking on renovations to create their forever home. Incorporating design elements that will assist with ease and accessibility in the future are key as they age in place. Gone are the old hospital-style grab bars. We're seeing universal design products and features that are as attractive as they are functional. We are finally seeing grab bars come in more modern and trendy finishes like champagne, bronze, or matte black. They often function as a towel bar to camouflage their true function, doing double duty while still meeting ADA guidelines. Zero entry or curbless showers, nonslip flooring, and shower benches have become alluring and stylish features for homeowners of all ages.
12. The Outdoor Living Room
One trending design theme we've seen in the last year—and you likely have too—is connecting to the outdoors. From color palettes to more sustainable products to bringing the outside in, people are looking for ways to connect to Mother Nature. People now want their backyards to be a relaxing extension of their interior living spaces.
What better way to do that than to create various settings such as an outdoor living room, a dining area to entertain guests or have family meals, an area with a firepit to enjoy chilly evenings, a flat grassy area where you can meditate or do yoga, or a garden area where you can grow some veggies and get down in the dirt. Outdoor rooms are limited only by your imagination and budget.
13. Privacy
In many new construction developments, we are seeing a compression of lot sizes where you can "reach out and touch someone" due to the proximity of the home next door. Many homeowners are now hiring landscape professionals to install or create more privacy. As they expand their outdoor living spaces, they are looking for screens, pergolas, fences, natural plantings, and other ways to create intimate spaces, provide separation from neighbors, or block a less than pleasing view.
---
Lorraine Beato is the CEO of Atlanta's Residences powered by eXp Realty. She is the author of "Flip the Switch," a practical guide for real estate agents and professionals ready to invest in real estate and real estate-related assets in order to build wealth and secure their retirement.
Beato has been a full-time, successful real estate agent and investor for more than 25 years. She specializes in thinking outside the box to get clients to the closing table fast. Combined with her personal experience in MBS trading with Merrill Lynch and building her own retirement portfolio using creative strategies to acquire properties and improve their cashflow, Beato's ability to negotiate and navigate her clients' way to winning investments has made her a favorite with investors nationwide who trust her to acquire, improve, list, and sell their properties when they are not able to personally manage projects in the Atlanta area.
---

https://thinkrealty.com/13-design-trends-for-2022/