Cleaning the house with dirty cleaning tools is a recipe for disaster. You'll not only end up spreading more germs around, but you'll also spend more money replacing deteriorating cloths and sponges.
To help us keep our cleaning tools clean and in good condition, TikTok user @neat_caroline has shared a handy TikTok tutorial on the topic.
Starting with rags, Caroline pops them in the washing machine with a tablespoon of detergent and a scoop of oxiclean on a hot water cycle.
READ MORE: Why you should stop washing your towels and tea towels together
There's no washing involved with a wool duster though. To clean this we're advised to give it a whack outside to remove the dust.
"Washing it strips it of its natural lanolin which is what attracts dust in the first place," she explained.
Caroline uses hydrogen peroxide to disinfect a sponge by placing the sponge in a bowl and pouring two to three inches on top. After soaking for 10 minutes, rinse out the sponge.
"If you hear bubbly sounds that means it's killing bacteria," she said.
Cleaning the gloves we wear to do our chores is even easier according to the video. You simply put the gloves on, add some washing up liquid and then wash like you're washing your hands. Make sure to hang the gloves to dry after or you'll end up creating another breeding ground for germs.
Caroline also showed how she cleans a broom and microfibre cleaning cloth, which you can watch in the video above.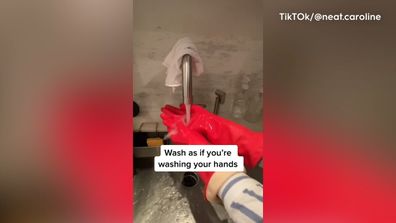 One of Caroline's follower's suggested an alternative for cleaning sponges which works just as well.
"I wet my kitchen sponges and put them in the microwave for three minutes and then let them cool," they posted in the comments section.
Another follower welcomed the reminder. "I'm not the best housekeeper, but this speaks to me. I hate dirty brooms, dustpans covered with ancient funky filth."
Caroline responded, "Totally agree! Seems counterproductive to try to clean things with dirty tools."
READ MORE: The one part of your bathroom you're probably forgetting to clean and how to do it
The handy guide follows the release of another cleaning tool guide posted to TikTok. In this tutorial Carolina Mccauley showed how she cleans her toilet brush, which is another item we often forget to clean.
Whatever your method of rinsing and disinfecting the brush, there is one tip from the video that you'll want to add into your cleaning routine. To dry the toilet brush, Carolina suggests propping it between the just-cleaned toilet seat and bowl so that the brush head can drip into the bowl.
In Pictures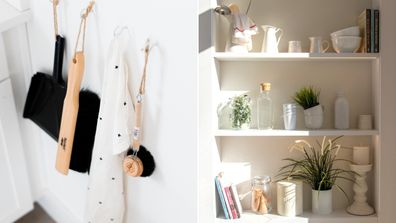 Five ways to refresh your cleaning routine this year
Easy ways to shake things up
View Gallery
https://9now.nine.com.au/the-block/how-to-clean-sponges-cloths-tiktok-tutorial/16d261cb-41b8-40d8-999e-ae6f4c4b4f49